The global asset tracking market is anticipated to grow at a CAGR of 13.91 percent between 2022 and 2027. In today's industry, where offices and manufacturing environments are rapidly going digital, asset management and tracking solutions are becoming increasingly crucial for maximizing operational efficiencies.
Thanks to recent advancements in IoT, many industries can now purchase affordable and effective asset monitoring gear. According to IDTechEx, the global RFID market was valued at $12.2 billion in 2022.
How does RFID asset tracking work? It includes tags, readers, and software services for both passive and active RFID, as well as RFID labels, cards, fobs, and more.
This article will cover the definition of radio frequency identification asset tracking, its principles of work, types, and major benefits. You will learn about the innovative use cases of RFID technologies and how Inoxoft, an international software development company, can help you with custom RFID asset tracking software development.
Explaining the RFID Asset Tracking Meaning
First of all, what is radio frequency identification (RFID)? Have you ever opened a hotel room with a key card? That's basically it — using unique tags attached to the object, which carry identification and other information. Now, with this in mind, what is RFID asset tracking? RFID system automates the process of managing and locating physical assets.
For it to function, an RFID tag must be loaded with data, attached to an appropriate asset, and read by an electromagnetic reader. This method has become the basis for building modern non-contact information systems.
How Does an RFID Asset Tracking Work?
Four pieces of equipment are required to build a functional asset-tracking system: RFID Tags, an RFID reader, an antenna, and a computer database. But how does RFID tracking work?
Step 1: Apply RFID Tags to Identify the Assets
You need to attach RFID tags to each of your physical assets. It depends on the type of RFID tag whether signals are sent and received actively, passively or semi-passively. They keep information on the electronic product code of an item, together with history and maintenance requirements (depending on the tag type).
Step 2: The attached RFID tag transmits signal
The RFID tags attached to your assets will transmit signals, which an antenna will receive. If your assets need to move from one warehouse to another, an antenna in the destination warehouse will detect their signal.
Step 3: Data is transmitted to the database
The data from your RFID tags will be transmitted to your computer by an RFID reader via the antenna. The tracking database records the information when the antenna receives the data from assets.
Step 4: The information is stored in the database
All the information provided by the reader will be safely stored in a database on a computer. This information may include the condition of the assets and the necessary maintenance for them. RFID, for instance, can be used to track medical equipment used to spot contamination in regulated pharmaceutical environments, which is one component of environmental monitoring.
Types of RFID Asset Tracking
There are three major types of RFID tags for asset tracking: passive, semi-passive, and active (more on this further down in the article). These categories describe the data transmission methods used by RFID tags and the minimum distance required to detect their signals.
Active tags transmit periodic electromagnetic signals using an internal battery and a built-in transmitter.
Passive tags return a signal that a passive RFID reader first delivers to them or "reflects" the reader.
Semi-Passive tags lack an integrated transmitter but have a battery, providing the power resources for other features.
Active tags
Active RFID tags are the perfect option for real-time location tracking because they send their own signals and have the widest read range of the three types of tags. Although they're usually the most expensive, they frequently include additional functions.
Three components make up an active RFID tracking system: a tag, a tag's antenna, and a reader. When the reader is located within the read range, which is typically 50–100 feet but can be as far as 600 feet, signals are sent outward from the battery-powered tag's antenna and will be picked up by the reader.
Transponders are a type of active RFID tag. These tags will only transmit a signal if a reader's signal triggers them to conserve battery life better. Other active RFID tags are called "beacons" since they continuously send a signal at predetermined intervals.
Active trackers can retain more data and have more significant memory capacity, but their batteries only last three to five years before needing to be changed. They often have a surface made of plastic or rubber and are fist-sized or smaller.
Active tags are best for higher-value assets, even if passive tags can be employed in a range of contexts. Additionally, since the tags' greater range and active signal provide more data and make them simpler to locate, they are ideal for moving between sites.
Along with shipping and logistics, active RFID tags are frequently used in car manufacturing, health, medical, construction, mining, remote monitoring, and IT asset management sectors.
Passive tags
Due to the passive tags' reduced range and lack of a battery, passive RFID asset tracking takes a little more expertise than active or semi-passive tracking. It's a better solution for items that need to be tracked temporarily or kept for long periods. They are also less expensive than active or semi-active tags.
The tag, tag antenna, and reader are the same three components that make up an active RFID tracking system. A passive tag must first be scanned by a signal sent from a handheld reader because it won't send its own signal. The tag's antenna receives energy from the reader, converts it into radio frequency (RF) waves, and then returns a signal to the reader.
There are many different shapes and materials that can be used for passive tags. Some can withstand harsh environmental conditions, while others cannot. A passive RFID will persist for decades until it eventually degrades from wear, whether it is actual tags, embedded in equipment, or something called an "inlay" that resembles a label.
The tracking process of furniture, equipment, uniforms, and laundry, as well as the management of returnable assets in the manufacturing, healthcare, logistics, and other sectors, all involve using passive tags for asset management.
Semi-passive tags
If you require extra features in your RFID tracking solutions, such as environmental monitoring, semi-passive RFID tags are a great choice. However, the range is still constrained when compared to an active tag because it lacks an inbuilt transmitter to send its own signal independent of an RFID reader.
Batteries are integrated into semi-passive RFID tags, also known as battery-assisted passive RFID tags. Their size is bigger compared to passive RFID tags, but because of their batteries, they have a wider reading range.
Benefits of Using RFID Asset Tracking
Traditional asset-tracking methods such as barcodes, engraved codes, or serial numbers require employees to manually enter the serial number or locate the barcode, which is inefficient and time-consuming.
RFID asset tracking provides benefits that meet the objectives of your asset management.
Reducing costs
With RFID for asset management, companies may automatically follow the movement of assets in warehouses or when the assets are in transit. Additionally, the data gathering procedure is automated, enabling organizations to receive precise updates in real-time directly to an asset monitoring system.
Spreadsheets and other manual tracking technologies are no longer necessary, effectively cutting down on staff labor and human involvement.
Maximizing workplace efficiency
Staff can scan multiple things using a portable RFID scanner integrated into a tablet or other mobile computing device without looking for or seeing the RFID tag. It implies that a staff worker may enter a room, accurately scan many items within a few seconds, and have the data at hand.
Asset managers can keep an eye on inventory levels from here, follow the supply chain, and even spot expensive operational delays.
Increasing return on investments (ROI)
A relatively affordable set of equipment required for an efficient RFID asset tracking system makes using RFID technologies accessible for companies of various revenue levels. Because of the low operating expenses, companies in the manufacturing, logistics, and retail sectors have achieved up to 200 percent ROIs.
Take into account that the starting price for a passive RFID tag is just $0.08. In addition, current smartphones come with RFID reader functionality, removing the need to buy costly hardware. Not to mention how long-lasting plastic tags are and how often they may be reused.
Minimizing asset loss and theft
Theft on construction sites costs the industry $1 billion a year. The expense of replacing assets that have been lost or misplaced can harm a company's profitability. RFID technologies aid in improving security.
Companies can determine their assets' location information by deploying several RFID readers and antennas. Real-time locating systems that use RFID technologies lower replacement prices and lessen the time-consuming manual procedure of locating assets.
Innovative Use Cases of RFID Asset Tracking
RFID asset tracking use cases are not restricted to a single industry. Various sectors may benefit from the knowledge gained from employing RFID asset management technologies. Let's examine RFID asset monitoring in logistics, healthcare, and industry.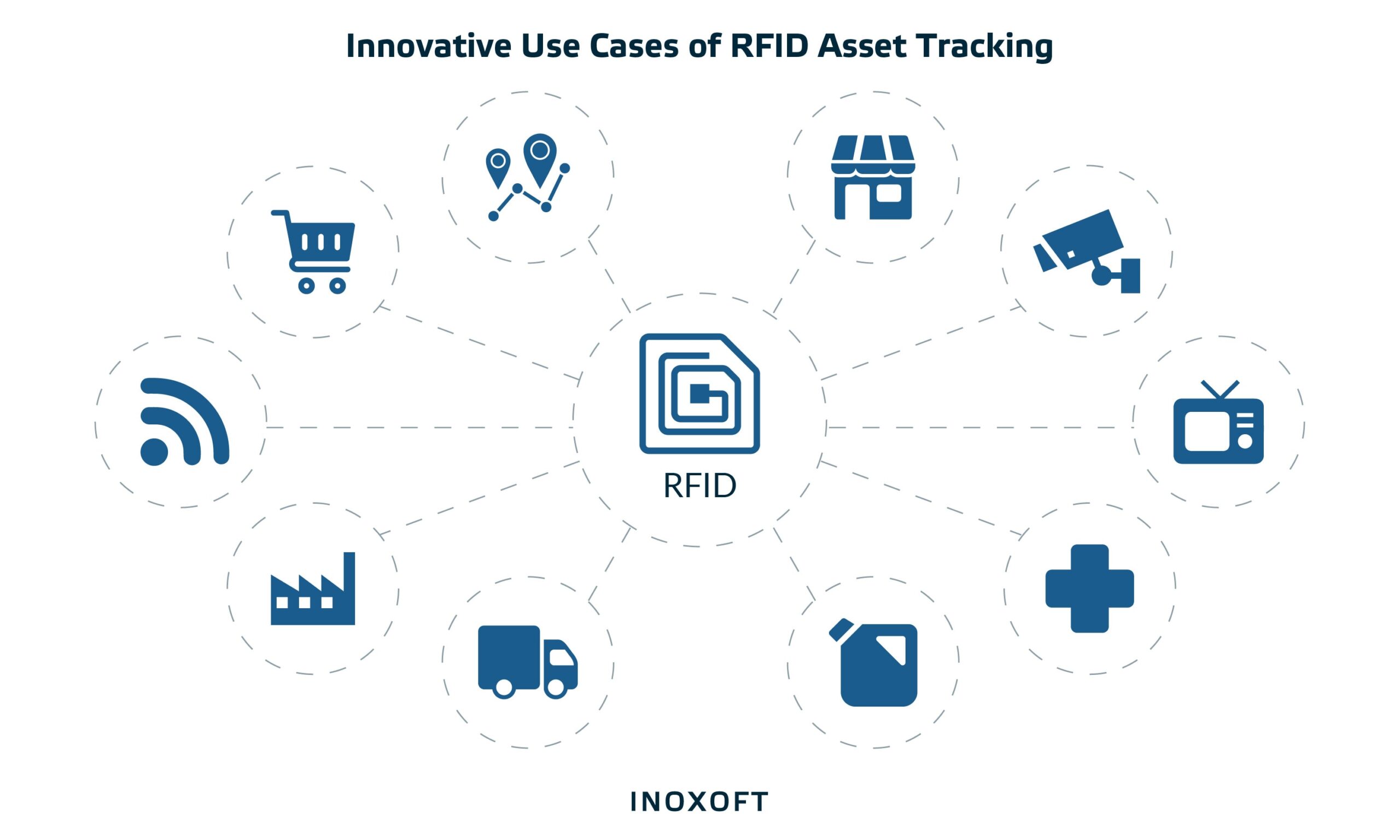 RFID in logistics
Automation of supply chain management with RFID technology can reduce the damaging effects of human intervention. The role of artificial intelligence in logistics industry is vital to streamline processes and increase productivity. On the other hand, RFID serves in logistics, helping to control fuel consumption, driver's working time, product monitoring, transport identification, and inventory customization.
Fuel сonsumption
Software programs track the quantity of gasoline your employees consume and the vehicle fleet's overall mileage. You can install fuel level sensors to increase the level of control further. In addition, RFID will assist you in enforcing your rules and preventing the excessive or unauthorized use of agricultural fuel and vehicles for private purposes.
Driver's hours control
RFID tags can be used to track an employee's working time. Since their salaries increased significantly due to a significant shortage, tracking drivers' working hours in logistics is crucial. RFID card scanning at the start and end of the day offers precise information on working hours and downtime. Such information aids in improving operational cost control.
Product monitoring
RFID product monitoring enhances the automation of your supply chain management. This concept is straightforward. An RFID tracker can be installed in a variety of objects, including chocolate boxes and shipping containers. Such an RFID tracker system can locate goods automatically and spot delays. A logistics team can automate reports and cut costs by doing this.
Transport identification
Without adding more employees to the field, transport identification systems help raise the level of security. Only authorized vehicles are allowed to enter your grain elevators, warehouses, and other facilities to load and unload cargo, thanks to RFID trackers. Additionally, you'll probably require a thorough access log for professional, security, or legal reasons.
Inventory customization: Inoxoft experience
Inoxoft created a web platform and a mobile application for customizable inventorization for global enterprises. Our client, an Israeli hardware provider B.O.S. Better Online Solutions, received an improved and creative inventory procedure through cutting-edge technologies.
Our experience enabled the database and RFID scanners to communicate efficiently. Thanks to the Inoxoft performance improvement, the RFID scanner processes all data and transfers it to the database in 0.2 milliseconds.
By improving inventory management with increased functionality, dependability, performance, and support, we assisted our client in achieving their business goals. Our customizable inventorization solution enabled inventory management through a web platform and a mobile app. Users can set up initial inventory procedures and then modify them for other business models.
RFID in Healthcare
Since many years ago, RFID asset monitoring has been used extensively in healthcare facilities to help nurses and doctors find equipment and keep track of inventories. It's predicted that hospitals with an efficient asset monitoring system installed can increase their return on investment by 275 percent.
Locating assets
Nurses spend 6,000 hours a month on average looking for equipment, so it is no surprise that the healthcare sector is a market leader in asset tracking. An RFID real-time location system lowers replacement costs and reduces the time-consuming manual procedure of locating assets.
Use Cases during the COVID-19 pandemic
In recent years, the fight against the 2020 COVID-19 virus outbreak has seen the beneficial usage of RFID technology. The RFID tags' microchips let hospitals and other healthcare facilities:
Verify COVID-19 test kits and vaccine tests for accuracy
Track and monitor Personal Protective inventory (PPE)
Track the plasma used in vaccine testing
Use RAIN RFID sensor technology to make sure hospital staff follows hand-washing protocol
If you need to create custom healthcare software, Inoxoft provides medical device software development services.
RFID for industrial use
Monitoring the material supply and equipment transportation can be done with the help of RFID technology. Supply chain management is one of many industries in which RFID technology is being used. Other asset tracking with RFID use cases includes manufacturing, mining, and other sectors.
Cranes, platforms, forklifts, and other pieces of industrial gear can all have RFID tags applied to them. RFID device tracking frequently comes with IoT sensors to give you more information on the status of your equipment. Depending on an industry's needs, different RFID solutions are available. Asset-tracking solutions enhance the following processes:
RFID equipment tracking
Detecting and reporting incidents
Access monitoring
RFID equipment tracking
Industrial equipment visibility is made possible by RFID solutions. You can monitor the history and present condition of the equipment. With the business objectives in mind, RFID tags are made to withstand environmental challenges, including harsh temperatures, vibration, and high pressure.
Detecting and reporting incidents
RFID-tagged sensors can provide information about the surrounding environment, such as temperature, depth, velocity, and pressure. Such information helps to automate event detection and reporting. RFID tags with sensors can track the temperature and other conditions to report incidents when environment indicators go beyond the norm.
Access tracking
Access control is tracked using cards with RFID tags that keep track of working hours, enhance tough-environment safety, and stop unauthorized access to vital equipment. The system learns this information and grants access when an employee scans a card.
Consider Inoxoft Your Trusted Partner
Inoxoft is a software development company that builds custom logistics software solutions. We enable data-gathering initiatives for improved performance, real-time fleet management, vehicle monitoring, tracking of product data, barcode scanning, and different solutions for secure and enhanced supply chain services.
One of our main focuses is custom logistic software development services. By collaborating with clients globally, we've grown our requisite expertise in developing software for logistics. We provide tailored logistic software solutions, matching them to client business requirements, and understanding gaps and arising issues.
Inoxoft created a web platform and mobile application for customized inventorization for various types of businesses. We used modern technology, such as Android, ReactJS, Angularjs 1.7, Apiato 2.2, Barcode, Barcode scanner API, Bluetooth, Bootstrap 3, Dagger 2, Firebase, FTP, Java, Kotlin, Laravel 5.5, Mysql 5.6, PHP 7, Redux 4, Reftorfit, RFID, RxJava 2, SQLite, XML, and Zxing to provide the client with an improved and creative inventory process.
With our knowledge, the database and RFID readers now communicate flawlessly. Inoxoft achieved the maximum performance optimization as the RFID reader processes all data and transfers it to the database in 0.2 milliseconds.
Contact us to discuss your future custom logistics software development.
Need dedicated team?
We are an international software development company and certified partner. 
Trusted by startups and Fortune 500 companies.
Get free consultation
Frequently Asked Questions
What is RFID Asset Tracking?
RFID asset tracking is a method of automating, managing and finding physical assets. It puts data on an RFID tag and attaches it to an appropriate item.
How does RFID asset tracking work?
An RFID system consists of an RFID tag, a tag's antenna, a reader, and a computer database. A reader triggers the RFID tag that sends digital data back to the reader. Then this information is sent to the database and stored there.
What are the benefits of using RFID asset tracking?
The benefits of using RFID product tracking include cost reduction through automation, maximizing workplace efficiency, increasing ROI, and minimizing asset loss and theft.
Where can I use RFID asset tracking system?
RFID for asset tracking system is used widely across many industries, including logistics and transportation, healthcare, retail, manufacturing, mining, agriculture, and others.